On December 28th, 2020, an extra-long tunnel, which is the dominant engineering of the Baoji City-Pingkan Town Highway Project, was completed its excavation through Tiantai Mountain of Qinling Mountains.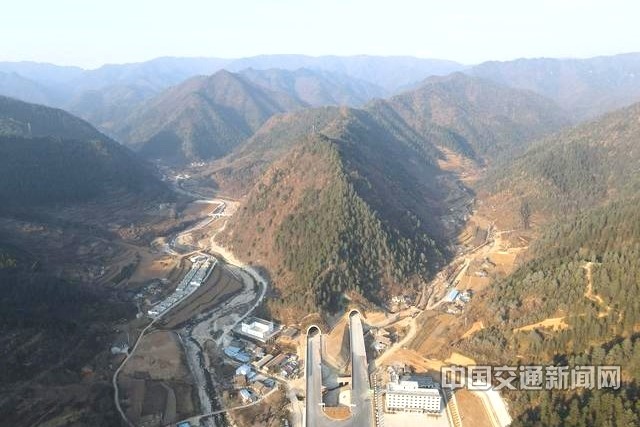 The Baoji City-Pingkan Town Highway constitutes one section of Yinchuan City-Kunming City National High-speed Line (G85), which is also the important segment of Baoji City-Hanzhong City highway within the "2367" Expressway Network in Shanxi Province. It is of the largest scale, with highest construction standards and in the most construction difficulty among the ongoing highways projects of Shanxi Province's "13th Five-Year Plan". The total length of the Highway section is 73.238 km, adopting two-way six-lane expressway standards with a designed speed of 80 km per hour, and comprising of 52 bridges and 16 tunnels, of which the estimated investment is 12.9 billion RMB.
The dominant engineering of the Highway Section is the extra-long tunnel cluster through Tiantai Mountain with a total length of 32 km, from north to south running through the main ridge of Qinling Mountains, of which the bridges and tunnels make up 98.1%. The longitudinal slop continuously persists as the tunnels span very long, characterized as "multilane, deep buried depth, bridge-tunnel connected, super long tunnels, etc.". In particular, the Tiantai Mountain Extra-long Tunnel, a two-way six-lane separated tunnel, ranks the first worldwide in terms of its engineering quantities and construction scale, of which the total length is 15.56 km, the maximum buried depth is 937 m, the total investment is 3.5 billion RMB, the building line is 14 meters, a net height is 5 meters, the total muck output is 5.17 million cubic meters, and the consumption of steel is 56,000 tons and concrete, 1.26 million square meters during the construction stage. The scale breaks the historical record for the construction of multilane highway tunnels in China, and it becomes another super highway tunnel project around the world.
The successful complete excavation of the phenomenal Tiantai Mountain Tunnel Project has laid a solid foundation for the operation of the entire Baoping Expressway Line in 2021. The broad unobstructed road, through the Qinling Mountains, is of great significance for improving the national highway networks, strengthening the interaction between Central Shaanxi Plain and southern Shaanxi area, facilitating a new round of western development, the Belt and Road Initiative and the New Silk Road economic belt, promoting the cooperation and interaction of Chengdu City-Chongqing City economic zone, and alleviating the poverty of Qinba Mountainous Area.
CCTV News' Qian Jinku, Gao Tao and Chen Zhuoran contributed to this report.